Dental crowns
Dental crowns are a form of restoration that completely cover broken or decayed teeth, protecting it from additional damage. They differ from veneers in that they cover your tooth's entire surface rather than just the front. Other benefits include:
Restoring functionality to a compromised tooth
Conceal teeth that are heavily stained or misshapen
Restoring a tooth after a root canal treatment
Crowns are available in a variety of materials. Your dentist will review the different choices with you and help you make an informed decision that matches your dental situation, aesthetic needs and budget.
Stainless steel: These prefabricated crowns are typically used to treat children's teeth because they can be put on in a single visit and are comparatively inexpensive.
Metal: Metal crowns, which preserve more of your natural tooth structure, are durable, cost-effective, and resist wear-related damage.
Porcelain-fused-to-metal: These crowns, which are porcelain with an inner metal casting, are popular with patients who have aesthetic concerns.
Ceramic or porcelain crowns: An ideal choice for restoring front teeth, ceramic or porcelain crowns have a natural appearance that make them both popular and cosmetically pleasing.
Ivory Dental is proud to also offer e-max crowns, which have been heralded as a major breakthrough in dental crown engineering. It is a ceramic crown that is durable, tough, and opaque, making it function just like a natural tooth, only better.
When we fit you with crowns at Ivory Dental, you can count on receiving the best of care and aftercare throughout the entire process. Call us to schedule a consultation and get ready to enjoy a perfected smile within months.
Inlays and Onlays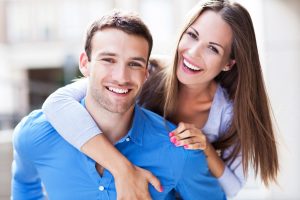 Dental inlays and onlays are restorations that repair rear teeth with mild to moderate decay or cracking. They are often recommended when your tooth is too damaged for a filling but has enough healthy structure to avoid the need for a crown. Inlays fit between the cusps of your tooth while onlays are larger and can cover the cusps. Both restorations are usually made from porcelain, composite resin, or gold, with the first two being available in shades that match your natural teeth.
Enquire today: